Chocolate Rose Truffles and a Virtual Babyshower
Bite sized desserts are always a delight to eat. You don't always want to dig in a huge slice of cake. Sometimes you need to enjoy melt in your mouth delicious Chocolate Rose Truffles.
Rose is such an exotic flavor. It is subtle yet so unique and beautiful. Rose is used a lot in Indian desserts. I was initially skeptical about pairing it with dark chocolate. But trust me, the result is divine.
And hence these Chocolate Rose Truffles are perfect to celebrate Kathy's virtual babyshower. My friend Katherine, a fellow blogger at Loveinmyoven is expecting :). I love kids, especially babies and if we lived close-by, I would have surely volunteered to babysit for her. She has two adorable boys and I am so excited that she is expecting a girl this time!
It's been a while I met all of these lovely people on Instagram and so I was more than happy when Kelly asked me to participate in this fun virtual babyshower with several other food bloggers.
Coming back to these Chocolate Rose Truffles. You don't need any fancy equipment to make these little bites of heaven. Truffles are basically soft chocolate ganache balls. These ones are flavored with the aromatic Gulkand, also called as Rose Petal Jam. If you can't find Gulkand, you can use Rosewater to flavor these truffles. But in case you don't fancy rose, try these Bailey's Chocolate Truffles for a deep and dark taste.
Truffles make for great gifts too. And these ones would make for a great romantic gift on Valentine's. Roses are full of romance, aren't they!
Chocolate Rose Truffles
Chocolate Rose Truffles are the easiest and most delightful dessert to make. The exotic flavors of rose go so well with the deep rich flavors of chocolate.

Ingredients
300

grams

Chopped Dark Chocolate

1/2 cup

+ 2 tablespoons

Cream

1 tablespoon

+ 1/2 teaspoon

Gulkand or Rose Petal Jam

1

teaspoon

Vanilla Essence
For Coating
2

cups

Dark chocolate chips
For Garnish
140

grams

Chopped white chocolate

2

drops

Pink Gel color
Instructions
Heat the cream in a saucepan over medium heat. Bring the cream to a near boil.

Pour the cream over the chopped dark chocolate. Leave for 2-3 minutes. Stir with a spoon until the ganache is completely smooth and no lumps remain.

Now add the Gulkand(Rose Petal Jam) and vanilla essence to the ganache. Mix well.

Place the pan in the refrigerator and chill for 40 minutes to an hour.

Now using a heaped tablespoon at a time, roll the ganache into balls.

Place the balls in the fridge for half an hour.

For Coating- Melt the chocolate chips in the microwave for 30 second intervals. Now use a toothpick or fork to dip each truffle in the melted chocolate. Place on a sheet of parchment paper. You can cover the entry of toothpick with a drop of melted chocolate.

Chill the dipped truffles for sometime in the refrigerator.

For Garnish- Melt the chopped white chocolate in the microwave for 30 second intervals. Once melted add the pink color and stir it well to get a uniform color. Add this to a piping bag, cut the end and drizzle over the cooled truffles.
Recipe Notes
Serve at room temperature to best enjoy the creamy texture.
The Total time doesn't include the time for refrigeration.
These Chocolate Rose Truffles have a delightful creamy texture and just melt in your mouth. The Rose Petal Jam(Gulkand) adds a lovely flavor to the chocolate.
I wish I could send a box of these truffles to Katherine, but since we live so far, I hope she enjoys this visual treat until she finds time to make these. Sending lots of hugs and kisses to you, Kathy :).
Meet our guest of honor: Katherine! Katherine blogs over at Love In My Oven and is the proud momma to two boys and a soon-to-arrive baby girl!!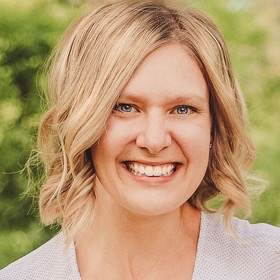 You don't need to know Katherine to join in the fun, just enjoy all of the pink themed recipes the bloggers are bringing to the party! Scroll down to see what the bloggers are sharing, and click on the links to hop over to their blogs to check their recipe out.